You are buying a
Playstation 3/PS3 Yellow Light of Death/YLOD Reflow Shims Repair Kit + Heat Gun
. Repair your faulty YLOD PS3 and bring it back to working order.
Now comes with HY-750 Silver Thermal Compound. This is more expensive and far more superior to the paste used by our competitors and even has better cooling performance than Arctic Silver 5. See below...
Thermal
Conductivity -
>3.80
W/m-K
Thermal Impedance -
<
0.087
℃-in
2
/W
Dielectric Constant -
>
5.1
Thixotropic Index -
380+/-10
1/10mm
Moment Beared Temperature -
-50~340
℃
Operation Temperature -
-30~300
℃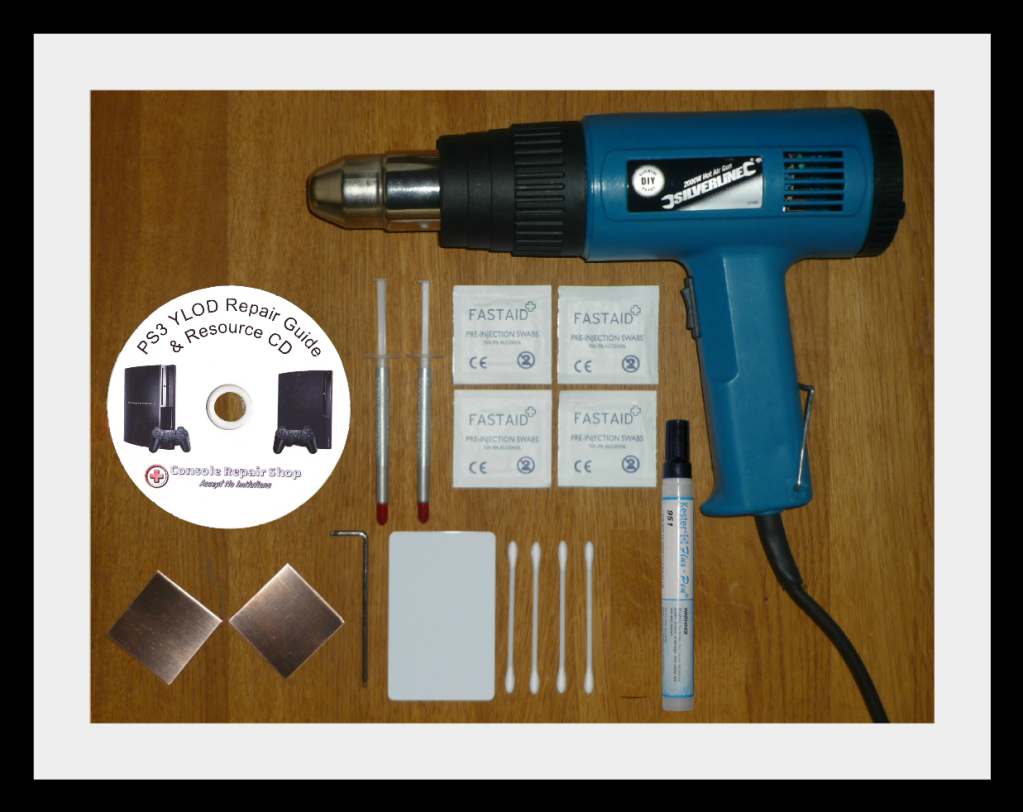 Attention: Before you buy a shims repair kit off of anyone else other than the Console Repair Shop, make sure you know what you are getting. Our shims are of the highest quality made from C101 specification pure copper and are 1.2mm think. Note that this is up to twice the thickness of others being sold on ebay. We boast about the quality of our shims because we know how good they are. That's why we can state the specifications in our listing. Ask yourself, "Am I buying a cheap 1mm or even worse 0.6mm Chinese import?" Not with the Console Repair Shop. We only offer the highest quality GUARANTEED.
Watch out for other sellers using stock images and advertising the same specification shims in their kits as it looks like they have just cut and paste from my listing, and they charge you over the top too! You can't really be sure of what you are getting unless you buy from the Console Repair Shop. Check our feedback to see why we are No1.
Over 200 Shims Kits sold last month!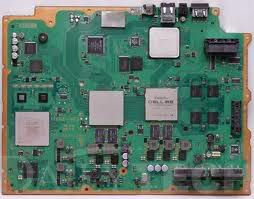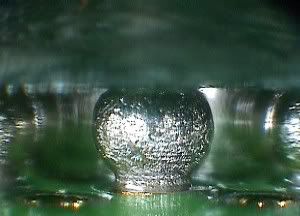 Playstation 3 Motherboard
Example of a good solder joint
Symptoms
Console displaying YLOD and not booting up
Fuzzy, funny coloured or artifacts on the screen
No picture or no sound
Screen freeze or locking up
Error codes being displayed



YLOD is generally caused by your PS3 overheating. It can for example be due to poor ventilation caused by a dust build up in your console or by using your console in a hot room for a prolonged period of time causing the solder on the CPU and/or GPU to fail. Either way, whatever causes it is a real pain and could mean buying a new PS3 at great expense, especially if you have the original 60gb backwards compatible model that is hard to come by... BUT WAIT!!!




Before you consider doing that, consider buying this repair kit instead. It contains everything you need to repair your YLOD PS3. Includes high quality

Silver Thermal Paste

as opposed to cheaper alternatives.

This is the ultimate YLOD Shims Repair Kit and your best chance of repairing your YLOD PS3. This kit contains absolutely everything you need.
COMPATIBLE WITH BOTH FAT & SLIM PS3
This repair kit includes:
1x 2000W Branded Heat Gun (use to reflow the solder on the CPU/GPU)
1x T8/T10 2 Torx 2 in 1 Security Allen Key Screwdriver (removes tamper proof screws)
2 x High Grade C101 Specification Copper Shims (1.2mm thickness for a perfectly tight fit)
2x Syringes of quality HY-750 Silver Thermal Paste (improved heat distribution)
1x Kester 951 Liquid Flux Pen (Specifications) (Use to reflow the CPU/GPU) Don't be caught out by those sellers selling cheap 10ml bottles of poor quality flux with their kits!
4x 70% Isopropyl Alcohol Pads (removes old thermal paste)
4x Cotton Buds
1x Thermal Paste Spreader
1x CD containing video and photo guides that takes you through each step of the process + useful links to resources online. Comes in a protective CD sleeve.
The Shims in this kit are made of high grade C101 Specification Copper and are 1.2mm thick for a nice tight fit. They are cut using an industrial metal press by a local precision engineering company for a clean finish. They will come to you with their protective plastic film still on. Don't be caught out by the thinner 1mm or less ones being sold by others.
No Stock Photos used. The item you will receive is as pictured.
Compatible with all models
Generation
1st
2nd
3rd
4th
Features
60 GB
(NTSC)
20 GB
(NTSC)
60 GB
(PAL)
80 GB
(NTSC)
40 GB
(PAL, NTSC)
40 GB
(PAL, NTSC)
80 GB
(PAL, NTSC)
160 GB
(PAL, NTSC)
120 GB "Slim"
(PAL, NTSC)
250 GB "Slim"
(PAL, NTSC)
120 GB "Slim"
(PAL, NTSC)
250 GB "Slim"
(PAL, NTSC)
160 GB "Slim"
(PAL, NTSC)
320 GB "Slim"
(PAL, NTSC)
Model number(s)
CECHAxx
CECHBxx
CECHCxx
CECHExx
CECHGxx,
CECHHxx
CECHJxx
CECHKxx,
CECHLxx,
CECHMxx
CECHPxx,
CECHQxx
CECH-20xxA
CECH-20xxB
CECH-21xxA
CECH-21xxB
CECH-25xxA,
CECH-30xxA
CECH-25xxB,
CECH-30xxB

Pay fast and securely with PayPal.




Worldwide Delivery

In stock now in the UK for fast delivery

Discounted Delivery on additional items

Purchases made and paid for before 12:00pm can sometimes be shipped the same day

If you are not completely satisfied with your repair kit, simply return it at your own expense within 7 days for a full refund. The item must be in the condition it was sold in and unused. Refunds will not be issued for a failed repair attempt.

With years of experience in building and repairing computers, you can be sure you have come to the right place. The kits we sell are of the highest quality and are offered at the best prices. With 100's of kits sold each week we have many happy costomers who have revived their otherwise dead console. Buy from a seller you can trust.


Skype: console-repair-shop